Poly Coated Poster Paper (35 / 40 /45 / 50 Gsm)
TRIPLE LAMINATE FOR PACKAGING
This 3 ply is appropriate for packing conservative products like confectionery, tea, consumables etc. The final product specifications are made as per agreed pact with the customers based on the type of products that are to be packed. Polyester to foil and foil to poly lamination is done by dry lamination. This foils are usually used for packing pouch.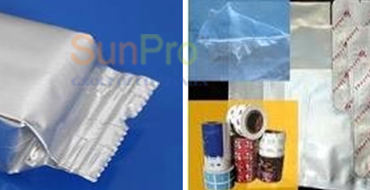 FOIL MATERIAL:
Soft Aluminium foil made from alloy AA 1200 / AA 1235 / AA 8011 conforming to Aluminium Associa- tion specification.
Salient features of Poly Ethylene Coated Poster Paper:
100% recyclable.
High strength.
Puncture resistance.
Tear resistance.
Applications of Poly Ethylene Coated Poster Paper:
Soap and Detergent Industries
Pharmaceuticals
Food
Heat sealable wrappers.
Labels.
Inner liner in carton boxes.
Applications:
Packaging of Tablets, Sugar Sachet, teaetc.
Packaging of Pharmaceuticalformulations
| | |
| --- | --- |
| Standard Thickness (micron) | Tolerance (± 10%) |
| 0.009 | ± 0.00072 |
| 0.012 | ± 0.00096 |
| | |
| --- | --- |
| Standard Thickness (micron) | Tolerance (± 10%) |
| 10 | ± 1 |
| 12 | ± 1.2 |
| | |
| --- | --- |
| Standard Thickness (micron) | Tolerance (± 10%) |
| 37.5 (150 gauge) | ± 5.625 |
| 45 (180 gauge) | ± 6.750 |