Both side Al. Foil Heavy Duty VCL-1000 GSM
Construction :
31 layers composite materials made from UV & FR reinforced PP spun bond Nonwoven fabric withbothsides highly reflective AL.FOIL have 1000 gsm…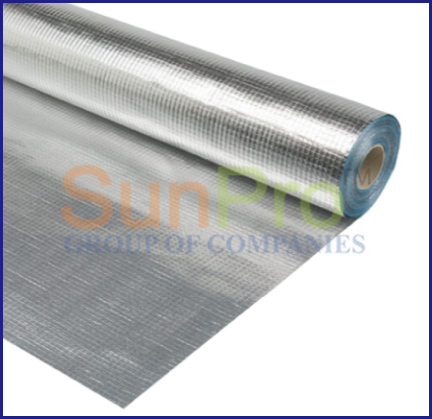 Features:
Our SunPro® Multilayer laminated Al.Foilinsulation are mainly used under roof decking, under attic rafters, over existing attic insulation, in floors, walls and crawl spaces, and in industrial and commercial buildings to block radiant heat coming into house through the roof during the summer and retain indoor heat generated during the winter. Also used as a moisture vapor barrier in air conditioning ductworks and cold rooms. It is used as packing material for big machine to prevent moisture and radiant heat to contact machine.
Following benefits Characteristics:
Based on reflection means low emissivity (blocks heat and moisture)
Reflects most of radiation heat (blocks 97% of radiation heat)
Light Weight, no degradation, lasts life long
Easy and fast installation, No spacers required
Environment friendly
No Wire mesh needed saves time and money
Cost effective and versatile
Typical Physical Property
Property
Test Method
Unit
Results
Grammage
ISO 536
g/ sqm
1000 (+/-10%)
Tensile – MD and CD
ASTM D 828
N/25mm
300-450
Burst Strength
ASTM D 774
psi
100-180
Water Vapor Transmission
ASTM F 1249
N
<1
Temperature Resistant
ASTM C 1263
-29~66 ℃
-
Remains Flexible
No Delamination
Emissivity
ASTM E408
%
0.03
Reflectivity
ASTM E408
%
95-97%
Working Temperature
Celsius
-29'C to 116'C
Product Benefits
Eco-friendly, environment friendly and radiant barrier.
Aluminum foil woven fabric as a radiant barrier stops up to 97% of radiant heat transfer which improves the performance of the insulating material.
PE woven fabric provides high tensile strength and durability
Lightweight and easy handling and low cost.
Never use chemical bonding materials.
For heavier basic weight based on order are also available.
Different lengths and basic weight are available.
Remarks
1. Above data are typical results and not the guaranteed performance.
2. Tolerance: Weight and Thickness: ±10%; Width: ±2mm; Length: ±0.5%.
3. The products should be stored at room temperature away from wet and heat source.
4. Please do trial-application and make sure the product can serve the specific application
Before actually put it to use.
Packaging Details
Core ID: 76mm (3inch) Standard
Length: 100mtrs, other lengths available On request
Thickness tolerance: +/-7% Maximum
Width: 1220mm