Paper & Paperboards Coating Lamination Products
SunPro™ Group is a premier source for your converting paper needs.. Does your company use Paper or Paperboard for converting, printing, or packaging? One of our main points of focus at The SunPro™ Group is on convertible paper & paperboard. Whether you call it job lot, stock lot, odd lot, or seconds; chances are good that we have what you need in stock for your urgent requirements, small runs, or cost sensitive jobs that might prohibit placing mill orders
SunPro™ Group is one of the leading manufacturer, exporter and supplier of PE coated paper & paper boards with and without Multi Color Rotogravure Printing option. At present, our products are well accepted by the industries like Pharmaceuticals, Snack Foods, Ice Creams, Dairy Production, Tea, Coffee, Milk, Automobiles, Stationery and other FMGC Industries. Our experienced team of professionals gathered in depth knowledge on extrusion coating printing technology to offer custom made solutions. Our innovative approach helps us to stand out from the competition. The outstanding quality of our products is comparable with overseas brands and is being patented for their exclusivity.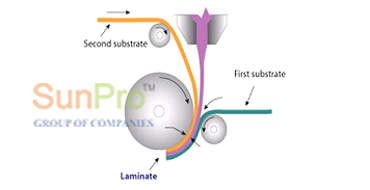 SunPro™ Group Products is producing by using optimum virgin quality plastic and other material and are highly preferred in packaging industry for salient features like:
Attractive color combination
Clarity
Mat Glossy appearance
Light weight
SunPro™ Group products can also be customized in terms of size, color combination, finish as per client's specific preferences.
With the support of advanced process technology and effective designing and development capabilities, we have manufactured precise range of packaging products that finds application in following industries:
Soap and detergent Shampoo & Hygiene Products
Pharmaceuticals Med. Disposable
Paper cup
Food & beverages / Confectionery
Tea/Coffee
Cosmetics & toiletries
Agro products
Ice Cream Sector
Stationary
Industrial Packaging
At SunPro™ Group, we provide a comprehensive array of Industrial Papers and Paper Board, which is extensively demanded by many industries and printing company owing to their superior quality. We have wide range of coated papers, poly coated paper boards and laminates, flexible laminates, paper boxes, printed plastic flexible laminates.
PATELSWrappers
Polycoated consumer packaging Material
Light Weight Coated Papers (LWC)
Poly Coated Duplex Board
Poly Coated Bleached Board
Envelope Papers– Poly Coated
Ivory Paper Board –Coated
Art Paper – Coated
PEELABLE KRAFT Poly Coated Lamination Crepe paper
Biodegradable Polymer Coated Paper & Paper Board
Gutkha Pan Masala Packaging Material
Poly Coated Poster Paper – (35 / 40 /45 / 50 Gsm)
PE Coated Chromo Paper –(55 – 60 –70 Gsm)
Poly Coated Glassine Paper – (40 –41 Gsm)
Plastic Laminated Kraft Paper / ESKP (70 – 10 Gsm)
LDPE Laminated Maplitho Paper (70 –90 Gsm)
Poly laminated Stiffener Paper (80 – 75 Gsm)
PE Laminated Cup Stock Paper (180 – 250 Gsm)
Coated FBB Board (300 –330 Gsm)
Poly Coated Grey Back Board (300 – 450 Gsm)
Plastic Laminated White Back Board – WWF (250 – 450 Gsm)
Paper for Sugar Sachet
Polycoated Medigrade paper
BOPP Laminated With Paper
Metalized Poly With Paper
3 Ply Alu Laminates
4 Ply Alu Laminates
PET –METPET POLY
PAPER PE METPET
PAPER PE ALU FOILS / PE
PET ALU FOILS POLY
Woven Non woven Lamination with Paper
Flexible Extrusions Laminates packaging
Aluminium Foil Laminates
Other Specialty Coated laminated products