PE Coated Cup Stock Paper (160 – 250 Gsm)
We SunPro™ Group provide a range of cup stock paper, which is manufactured in compliance with the international quality standards. These papers are used for food packaging such as paper cup, bowls, containers, food wrappers, grocery bags, tray mats, meal boxes and fast-food containers. Highly hygienic, these provides low heat transfer and comfortable for holding beverages for longer time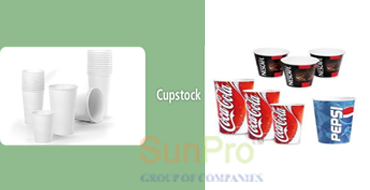 1 side pe coated paper for hot cup ,
2 side pe coated paper for cool cup, o Smooth surface, good brightness, o FDA Approved
Typical Physical Property:
Shopping Bags , Promotional Bags , Packaging Bags, Metalized film for metallic yarn, glitter powder,sequin,spangle printing and lamination, coated colours metallised polyester film is for the metallic yarn, glitter powder,sequin,flxible packaging, waterproof material, decorative material, foodstuff packaging, barrier material, Low heat shrinkage, well tensile strength, aluminium coating is well&proportioned has very high lusted degree, light reflectivity reach 98%, suitable for yarn, cling packaging, cosmetic packaging and tobacco and liquor packaging.
Products name
pe coated paper for cups
Usage:
Best choice for making paper cups , beverage cups, paper bowl , dinner boxes
Material:
190gsm~350gsm base paper coating with 1side or 2side PE 18+-2g/m2
PE (matt ) + base paper + PE (glossy, corona treated for printing )
Base paper made of 100% virgin wood pulp.
Feature:
high smoothness, Excellent printing effect, high stiffness & good brightness ,Glossy
TQuality Level
A grade
Size:
In sheet or in roll, or in preprint & precut blanks, inquiry details.