Laminated Paper for Wrappers
SunPro™ Group is a premier source for your converting paper needs.. Does your company use Paper or Paperboard for converting, printing, or packaging? One of our main points of focus at The SunPro™ Group is on convertible paper & paperboard. Whether you call it job lot, stock lot, odd lot, or seconds; chances are good that we have what you need in stock for your urgent requirements, small runs, or cost sensitive jobs that might prohibit placing mill orders
SunPro™ Groupis one of the leading manufacturer, exporter and supplier of PE coated paper & paper boards with and without Multi Color Rotogravure Printing option. At present, our products are well accepted by the industries like Pharmaceuticals, Snack Foods, Ice Creams, Dairy Production, Tea, Coffee, Milk, Automobiles, Stationery and other FMGC Industries. Our experienced team of professionals gathered in depth knowledge on extrusion coating printing technology to offer custom made solutions. Our innovative approach helps us to stand out from the competition. The outstanding quality of our products is comparable with overseas brands and is being patented for their exclusivity.
Laminated Paper for Wrappers are available in width ranging from 500 mm up to 2000 mm. PE coating on them could be done from 10 gsm up to 50 gsm. Various paper substrate options are available ranging from pure fiber based top class kraft liner, kraft papers to low cost recycled fibre based testliner (Both bleached or unbleached) with a grammage band of 30 gsm to 450 gsm to meet the specific requirements of each customer.
Laminated Paper for Wrappers are available as single polycoated or sandwich laminated papers with or without scrim reinforcement.
SunPro™ Group Laminated Paper for Wrappers are as Reel/ Ream Wrapper in paper/ paper converting industry, as corrugation liner for corrugated/ solid board boxes and fiber drums, as Soapwrapper (PE coated ARSR grade Stiffner paper), scrim reinforced caseliners and to cater to many other specialty/ customized wrapping needs where moisture barrier is required.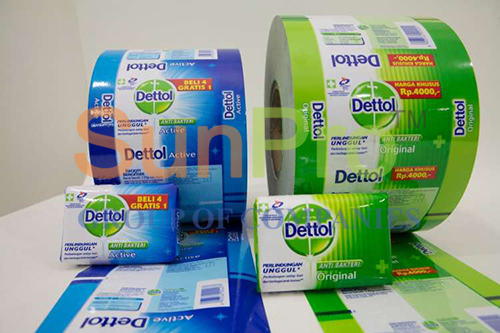 SunPro™ Group Products is producing by using optimum virgin quality plastic and other material and are highly preferred in packaging industry for salient features like:
Reel Wrapper
Ream Wrapper
PE Barrier Corrugation Liners.
Soap Laminated Paper for Wrappers.
Scrim Reinforced case liners