Polycoated Medical Grade (Medigrade) Paper
We SunPro™ Sprovides tailor-made solutions for packaging of Disposable single use medical devices/products which are being used in Hospitals as well as polycoated OLB paper based blister back material for tablet packaging in pharma sector.
Products in the areas of pharmaceutical & medicine industry requires multi-functional packaging that combines optimal product protection, effective advertising and minimum use of raw material.
The Medikraft/ OLB Base paper used for these applications is virgin grade/ 100% primary fibre bleached using the environment friendly ECF method ensuring strong clean fibres. It is strong, hygienic & environmental friendly. Certified production procedures incorporates hygiene control and utilizes in–line contamination and hole detection equipment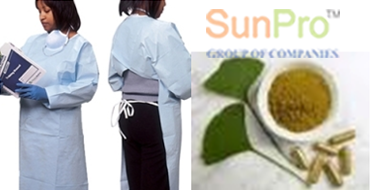 We serves as protective material for medical/ pharma packaging & offers,
High Paper strength.
Superior printability.
Excellent runnability & sealability.
Environment friendliness & recyclability.
Major Applications covers.
Packaging paper for
Latex examination gloves
Latex Surgical gloves.
Powder-free examination gloves.
Sterile surgical gloves.
Syringes
Catheters & needles
Band-aids
Medicine Tablets
Multitude of Hygiene products