Reinforced Envelope Papers Poly Coated
The new Envelope Papers Poly Coated will now be introduced on the Asian Market. A new range of smooth extra-strong envelope material and bag paper has been launched. These Reinforced laminates are for tough and moisture barrier envelopes. It is a new type of mailing material reinforced with specialty plastics with moisture/ water barrier. This easily transforms simple Bleached and Unbleached Kraft paper into a tough and durable composite.
This includes following two product range.
Polycoated brown/ green/ white paper with scrim reinforcement,
Sandwich laminate of two papers with scrim reinforcement.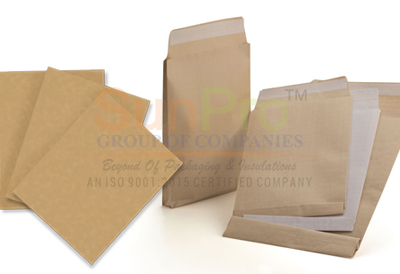 The markets have shown great interest in this tough mailing material, particularly in the growing field of e-commerce, where extremely strong mailing material is in high demand. Important and confidential mail shipments, which require extra-strong and safe envelopes paper…
These tailor-made, durable, moisture resistant, high tear strength tough and durable Scrim reinforcement paper laminates are essential for safety of your confidential and important documents.
Envelope paper laminate offers excellent die cutting and folding of envelopes on high-speed envelop machine. These laminates have minimal curling and has very good glueability/ salability as applicable. Envelope thin paper helps to produce quality printing without the need for special inks or machinery. It is possible to customize the colors and special surfaces of mailing material individually for specific customers.
These reinforced Envelope papers are in great demand as,
Waterproof commercial envelopes
Special event and promotional envelopes
Heavy-duty and tear-proof envelopes
Safety and security envelopes
Versatile and practical, envelope paper lends many important benefits to laminated paper envelopes including,
Water moisture resistance.
Much better tear strength.
Excellent dimensional stability.
Much improved durability.
Last but not least is Reliability means confirmed assurance of safety of document inside in any diverse condition.