Biodegradable Polymer Coated Paper & Paper Board
All of the benefits of traditional plastic coated paper, but in a conventional plastic free product. The product is 100% biodegradable and compostable. The poly paper is available in rolls and can be heat sealed and imprinted for a variety of applications such as packaging materials, food containers, cups and trays.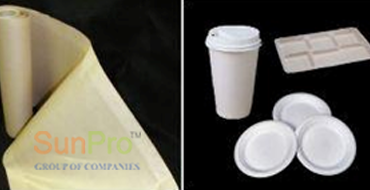 Features:
100% Biodegradable & Compostable.
Environmentally-friendly alternative to conventional plastics
Does NOT contain any polyethylene or other conventional plastics
Tear resistant, heat sealable & water resistant
Imprintable
Strong, flexible & lightweight
Polymer Coated Paper is available in:
36" rolls
48" rolls
Custom sizes.
Biodegradable Polymer Coated Paper can be used for a variety of applications, including:
Foodservice products (e.g. cups, plates trays, food containers)
Packaging materials
Grocery, carry-out or storage bags
Physical Data:
Appearance and Odor Odorless, biodegradable polymer coated papers & paper board.
Color Colors available upon request
Biodegradable Polymer Coating 12 – 50 micron [ù]
Typical Values
Coating Deposition :25 micron [ù] biodegradable film
Disposal Method :Ideal disposal method is to compost in a professionally managed municipal or commercial facility. Alternatively, product may be disposed of in a landfill or incinerated (consult federal, state and local regulations)