SunPro™ Biodegradable Polymer Coated Paper
SunPro™ Group Of Companies glance  The Biodegradable Coating  truly compostable/fully biodegradable material which comprises of a bio polymeric material coated onto paper/paperboard.  This sturdy cup looks like poly coated paper cups but is actually made from high quality Biodegradable which is plant based. This means you won't be adding to landfill or harming the environment. These biopolymers correspond to the regulations of the Packaging and Packaging Waste Directive (94/62/EC) and their computability is certified according to EN 13432.
This is a great plastic-free alternative for any cafe or takeaway looking to make a real eco-conscious difference.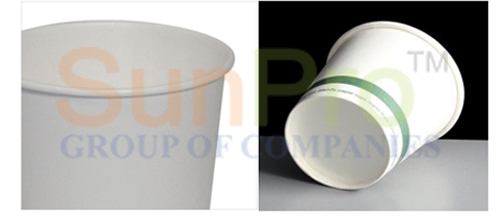 Features
Truly compostable Eco Friendly Biodegradable coated paper
Biodegradable Paper/Boards complies with food safety requirements for direct food contact
Excellent Heat seal ability on continuous FFS machine
Excellent gas barrier
We manufacture  eco-friendly, nontoxic paper and  board
Excellent printing effect on paper/paperboard surface
Our compostable paper & board has Optimum tear strength
BRIEF SPECIFICATIONS:
Grammage –

170 – 250 gsm Cup stock board / 15 – 40 gsm Biopolymer
Custom Width :
Jumbo reel form 700 mm 1500 mm
Silted coils – As per the requirement
Sheet form for cup stock – As per the requirement
Max Cutting Width 1400mm
Max Cutting Length 1200mm
APPLICATIONS: :
Biodegradable coatedpaperMost commonly use as portion pack for packaging of sugar, salt, pepper, etc. in sachets….
Compostable Cups for hot & cold beverages.
We are manufacturers of raw material in rolls and sheet form; we don't make Cups, Plates & Boxes.