BOPP Laminated Woven Sacks
We are engaged in Converting a range of BOPP Laminated PP/HD Woven Sacks (BOPP Laminated Polypropylene Woven Sacks) that are manufactured using quality raw material. Owing to the high quality standards, BOPP Laminated Woven Sacks find extensive usages in the packaging of salts, fertilizers and sugar. When offered in a standards option, BOPP Laminated Woven Sacks / Bags have a stitched bottom, open mouth and are duly non-lamination.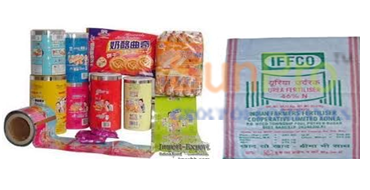 Advantages of BOPP Lamination for Bags
High tensile strength
Very high quality printing that cannot be scratched off
High gloss surface image that can be wiped off easily
With BOPP film colored and combined with normal plastic bags, they are beautiful and also have a waterproof, moisture-resistant function. With our computer 8-color printing configuration equipment, color printing is accurate.
These bags have a very good appearance and are used for packaging costlier products like pesticides, seeds, wheat flour, high-end chemicals etc.