Sun

Pro

™ LDWLD Scrim Reinforced VCL
Construction :
3 to 5 layer co- extruded composite material made from UV & FR reinforced HDPE Woven Fabric (Scrim) with both side Polyethylene (PE) coating..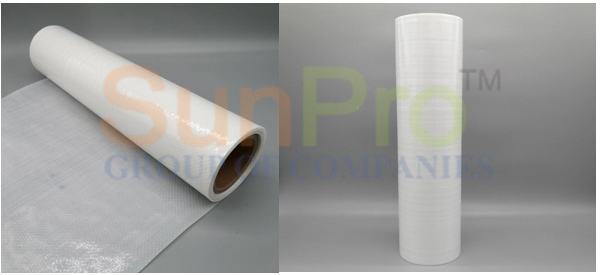 About
Sun

Pro

™ LDWLD:

The insulation material SunPro™ LDWLD should be resistant to water, solvents and chemicals. It should be durable, and not lose its insulating efficiency quickly. It should allow a wide choice of adhesives for its installation. It should be easy to install, of light weight and easy to handle. Ordinary tools can be used for its installation. It should be economical, with significant savings on initial cost as well as savings on long-term performance. It should not generate or absorb odors. It should be unaffected by fungus or mildew and should not attract vermin. It should be dimensionally stable, so it will not crumble or pack down.
Typical Physical Property :
| | | | |
| --- | --- | --- | --- |
| Property | Test Method | Unit | Results |
| Grammage | ISO 536 | g/ sqmtr | 200 (+/-10%) |
| Color | ------ | --- | White |
| Tensile – MD and CD | ASTM D 828 | N/50mm | 170 - 170 |
| Burst Strength | ASTM D 774 | N/25mm | 180 |
| Water Vapor Permeability | DIN 53122 | G/m2/day | 0.61 |
| Water Vapor Resistance | BS3177 | MNs/g | 336 |
| Working Temperature | | Celsius | -50 to 110'C |
Applications
Our SunPro® LDWLD as PE and fabric insulation are mainly used under roof decking, under attic rafters, over existing attic insulation, in floors, walls and crawl spaces, and in industrial and commercial buildings to block radiant heat coming into house through the roof during the summer and retain indoor heat generated during the winter. Also used as a moisture vapor barrier in air conditioning ductworks and cold rooms. It is used as packing material for big machine to prevent moisture and radiant heat to contact machine.
Product Benefits
Eco friendly, environment friendly and radiant barrier.
Aluminum foil woven fabric as a radiant barrier stops up to 97% of radiant heat transfer which improves the performance of the insulating material
PE woven fabric provides high tensile strength and durability
Aluminum foil woven fabric provides an efficient, space saving, and healthy method of temperature control and energy savings.
Lightweight and easy handling and low cost waterproof type.
Never use chemical bonding materials.
PE woven fabric is used; you can sew it and easily install it on big building such a warehouse ceiling, factory building, super market, gm, container liner.
For heavier basic weight based on order are also available.
Different lengths and basic weight are available.
Remarks
Above data are typical results and not the guaranteed performance.
Tolerance: Weight and Thickness: ±10%; Width: ±2mm; Length: ±0.5%.
The products should be stored at room temperature away from wet and heat source.
Please do trial-application and make sure the product can serve the specific application before actually put it to use.
Packaging Details
Core ID: 76mm (3inch) Standard
length: 250 mtrs, Other lengths available On request
Thickness tolerance: +/-7% Maximum
1220mm to 1520mm