Sun

Pro

™ Radiant Barriers Or Reflective Barriers

"Radiant barriers or reflective barriers inhibit heat transfer by thermal radiation. Thermal energy may also be transferred via conduction or convection, however radiant barriers do not necessarily protect against heat transfer via conduction or convection.."

One of our main products SunPro™ is Thermal Insulation/Thermal Heat Insulation that was made from the layer of 99% Pure Aluminum foil and Aluminized Metalized Film (The technology that was developed by NASA, USA) to function best as under deck or roof insulation widely used in Building Construction Industries. This high reflectivity and low emissivity surface will reflect out mostly 95% of radiant heat from penetrating your home/building/property - One of the most Energy Efficiency (Energy Saving) Green Building Materials, a Sustainable & Affordable Product. (Environment Friendly!)

Another high demand products in India and Other Country is Vapor Barrier for HVAC ductwork aluminum insulation foil which is also suitable for roofing and wall insulation e.g. sarking membrane. We are focus to succeed and be recognized as a leading company in producing and maintaining highest quality standard in the manufacturing of Reflective Insulation Foil for Radiant Barrier/Vapor Barrier application not only for Indian's market but also in the region. We also optimist to feature our product worldwide and always welcome for new business partner!

SunPro™ is a versatile range of high performance fibre-free flexible reflective insulation for roofs, walls and floors. SunPro™ fibre-free flexible Reflective Insulation Materials offers the following benefits for your building insulation:
Following benefits Characteristics:
Based on reflection means low emissivity (blocks heat and moisture)
Reflects most of radiation heat (blocks 97% of radiation heat)
Light Weight, no degradation, lasts life long
Easy and fast installation, No spacers required
Environment friendly - Non-toxic / non-carcinogenic
No Wire mesh needed, saves time and money
Cost effective and versatile.
Easy to install
Fibre-Free
Class A / Class 1 Fire Rating
Inhibits condensation
Resists growth of fungi, mold and mildew
Does not compress, collapse or disintegrate
Lowers heating and cooling costs year-round
Vapor and radon retarder
Not affected by moisture or humidity
ISO 9001:2015Manufacturing location
Our range of Reflective Insulation Materials products include Patidar Manufactured Radiant Barriers or Reflective Barriers such as Woven Sack Lamination With Aluminium Foil, Aluminium Foil - Metalized Film Laminated Non Woven Fabrics, Foil Kraft Insulation Finish, Insulation Aluminium Foil Coated Fiberglass Cloth and Metalized Laminated With Woven Fabrics, Which Used in Below application:
Reflective Technology - An Old Concept
The Scottish chemist and physicist, Sir James Dewar (1842-1923) invented the thermos flask (1892), also known as the Dewar flask or vacuum flask. The purpose of the flask was to store liquid gases at very low temperatures. The basic function was to thermally insulate the contents in the flask, preventing heat from flowing either in or out.
In our illustration below, radiation is reduced to a minimum by silvering the glass, generally on the two internal faces, so that the radiant heat waves are reflected. Different types of insulation products can reduce the heat transferred by conduction, convection and radiation to varying degrees. As a result, each provides a different thermal performance and corresponding "R" values. The primary function of reflective insulation is to reduce radiant heat transfer across open spaces. The low emittance metal surface of reflective insulation blocks up to 94% + of the radiation, and therefore, a significant part of the heat transfer.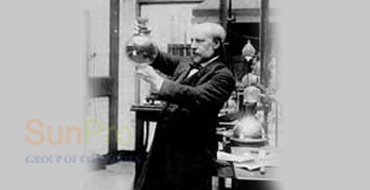 Reflective Insulation vs. Mass Insulation
A foam cup "insulates" a cup of coffee as mass insulation does and attains an actual R-value. The reflective surface of a thermos jug lining keeps liquid hot or cold. For example, if you take hot coffee, the heat within a thermos is reflected back inside while the cold outside is reflected away. Like the thermos jug in the illustration, SunPro™ Insulation reflects and separates "heat" from -60 degrees to a +110 degrees without an R-value. Would you rather drink coffee from a thermos jug or a foam cup hours later?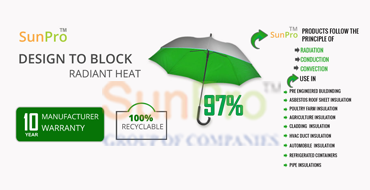 Performance Information for Reflective Insulations and Radiant Barriers
Why Buy
Sun

Pro

™ Insulation and Radiant Barrier Products?

We manufacture the highest quality, most extensively-tested, readily-available, reflective-based insulations and radiant barriers in the India! With SunPro™ products, there is no middleman. We are the manufacturer and we operate with an ISO 9001:2015 certified management system. Our testing and validation requirements are second to none. Distribution of our products is worldwide through Do-It-Yourself Retailers, Contractor Sales Groups and Industrial/Commercial Building Product Suppliers.
What are the Advantages of
Sun

Pro

™ Insulations and Radiant Barriers?

Ease of installation and diversity of applications are two major advantages. SunPro™ Insulations and Radiant Barriers are very easy to handle and install. All that is required are simple hand tools and access to the installation area. SunPro™ products are some of the most diverse, energy conserving building materials available, with over forty verified applications for residences, industrial/commercial buildings and agricultural structures.
What are Conduction, Convection and Radiation?
These are 3 ways that heat moves from warm regions to cool regions:
Convection: Heat flow transferred by the movement of air
Conduction: Heat flow through a material
Radiation: Electromagnetic transfer of energy through space
What are the Differences in Performance Between the Reflective/Bubble Insulation and the Reflective/Woven Fabric/Reflective Radiant Barrier?
Both products contain the same metalized aluminum and can be utilized as reflective insulations or as radiant barriers. The key difference is in the structure. The Reflective/Bubble products have strength and substance (from the bubble). The Reflective/Woven Fabric/Reflective Radiant Barrier product is designed primarily for residential attic applications as a radiant barrier.
What is the Temperature Range of the
Sun

Pro

™ Product(s)?

SunPro™ Reflective Insulation, Radiant Barrier can be installed in environments with a range of -60 degrees to 180 degrees F.
Reflective Insulations:
What is Reflectivity?
Reflectivity is a material characteristic that is quantified as a percentage of radiant energy that a material will reflect.Example: The reflectivity of the metalized aluminum in SunPro™ products is very high (94% +). This makes for very efficient performing reflective insulation assemblies (quantified in R-values).
What is a Reflective Insulation?
A reflective insulation is a material (or assembly) that reduces the rate of radiant heat transfer across air spaces by use of one or more highly reflective surfaces. This rate of heat transfer can be quantified for a specific application by an R-value.
Why are Air Spaces Required (in every application)?
For either a reflective insulation or a radiant barrier, an air space of a minimum thickness is required on the reflective side of the product. (Most SunPro™ products are reflective (shiny) on both sides.) The reflective insulation benefit is derived from the interaction of the highly reflective surface with the air space. If the reflective surface is in contact with another building material, it becomes a conductor (transmitting the energy by conduction). An air space may be specified on one or both sides of the product (always on a reflective side). Enclosed air spaces, when instructed, are required to provide the stated R-value.
What is an R-value?
An R-value is an assigned number derived from a specific testing procedure (or calculation) to determine a materials (or building assemblage) "resistance to conductive heat transferâ€. The higher the R-value, the more resistant a material (or building assemblage) is to conductive heat transfer.
What is Conductive Heat Transfer?
All materials have a "conductive heat transfer". Some are very high and some are very low. Materials that are low (or resistant) to heat flow have higher R-values. Example: If a heat lamp is positioned shining on a 0.5" (width) panel of plywood (R-0.62), within a very short time, the opposite side of the panel will become hot to the touch (the wood has transferred the heat from one side to the other). -- Position the same heat lamp an equal distance from a batt of fiberglass (R-19). It will take dramatically longer to detect any increase in temperature on the opposite side of the batt (if at all). The difference in R-values indicates which material has the best "resistance to conductive heat transfer".
What is Meant by the Terms "Up", "Down" and "Horizontal" Heat Flow?
These terms are related to heat flow directions. They are a part of the criteria utilized in R-value testing. For example, when testing a floor assemblage, heat flow down is tested. When testing for a wall system, heat flow horizontal is tested (same for all conductive heat transfer insulations).
What if There is No Air Space Present on Either Side of the Product?
No Air Space = No Reflective Insulation Benefit
(An R-1.1 is provided from the product itself for the Reflective/Double Bubble material.)
Radiant Barriers:
What is an Example of Radiant Energy?
An example of this would be the hot sensation you feel on your skin when walking from shade into direct sunlight.
What is Emissivity?
Emissivity is a material "characteristic" that is quantified as a percentage of radiant energy that a material transmits.Example: The emissivity of the metalized aluminum in SunPro™ products is very low (3-5%). This quality makes for excellent radiant barriers.
What is a Radiant Barrier?
"Radiant barriers or reflective barriers inhibit heat transfer by thermal radiation. Thermal energy may also be transferred via conduction or convection, however radiant barriers do not necessarily protect against heat transfer via conduction or convection.."
How Does the Product Work Being So Thin?
The SunPro™ product has a very low re-transmission rate (emissivity) of radiant energy. It blocks 97-95% of the radiant energy that it encounters and this translates to a significant reduction in attic surface temperatures. A cooler attic results in a cooler house requiring less air conditioning usage.
How Much Will I Save on My Electric Bill with a Radiant Barrier?
A savings of up to 20% off your air conditioning usage are typical. This can be a larger number if there are ducts mounted in your attic space.
Does a Radiant Barrier Have an R-value?
No. R-values describe the rate at which energy is transferred through a material or assembly. Radiant barriers provide benefit by dramatically reducing "radiant" heat transfer which is just as significant but not related to an R-value type performance.
Will the Product Hurt My Shingles?
No, absolutely not. There has been significant testing on this issue and it has been proven that a radiant barrier installed in a residential / Industrial attic will have not have any detrimental effect on the shingles.
Is Ventilation Required for a Radiant Barrier?
No, ventilation is not required, but it is extremely helpful when addressing convective heat transfer. If an attic system has a mass insulation (such as fiberglass), a radiant barrier and a ridge vent, it has addressed three types of heat flow; conductive, convective and radiant within that system.
What is the Fire Rating of the
Sun

Pro

™ Reflective/Woven Fabric/Reflective Radiant Barrier?

SunPro™ has a Class A/Class 1 Fire Rating on the Reflective/Woven Fabric/Reflective Radiant Barrier meeting all fire and smoke safety requirements of federal, state and local building codes.